Your Chauffeured Limousine Awaits…
When it comes to luxury travel, nothing can beat a chauffeured car experience.
No matter your transport needs, White 7 Edinburgh can take you there in style and comfort.
Our BMW 730 Ld M Sport limousine is the perfect limousine to get you where you need to be.
Whether it's making your wedding day extra special, taking away the hassle of getting to the airport on time, a trip to the theatre or making a great first impression with your business colleagues, White 7 Edinburgh is the ultimate chauffeur limousine service.
Book your luxury chauffeur limousine today
07803 753554 or Enquire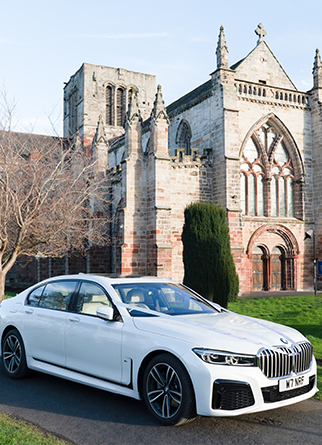 The BMW Ld M Sport
The BMW 730 Ld M Sport limousine is our car of choice to transport you in style for your days and nights out or business travel.
With its elegant silhouette and distinctive and modern appearance, it definitely looks the part. But its looks aren't the only reason we've chosen it for our chauffeur service.
The executive lounge seating with maximised leg room and adjustable seats allow you to create a comfortable relaxation position. Luxury is the name of the game with seat heating, air conditioning, enhanced Bluetooth with wireless charging, loudspeaker system and CD player.
However long or short your journey is, you can leave your worries at the door as you enjoy the ultimate in stress free executive travel.
Looking for the very best chauffeured car service in the Edinburgh region?
White 7 Edinburgh offers unrivalled luxury throughout the Edinburgh region as well as the surrounding areas such as Dundee, Falkirk, Gleneagles, Perth and St. Andrews. Our chauffeur limousine service can take you to all major UK airports to include Aberdeen, Edinburgh, Glasgow, Inverness and Newcastle.
Call today on 07803 753554 or fill out the form here to book your travel.