Luxury Wedding Car Hire In Edinburgh
A wedding day is a perfect day for the bride, groom and their families and friends.
White 7 Edinburgh take great pride in providing the very best chauffeured wedding car service. From the moment you step inside our gleaming White 7 BMW, your day of happiness and celebration has begun.
We know how important this occasion is and that is why we provide you with the very best wedding car experience so you can sit back, relax and enjoy your special day.
Why choose White 7 Edinburgh for your wedding car hire?
Here are 7 great reasons:
Planning your wedding day is exciting, but it can also be very stressful! At White 7 Edinburgh, we listen to what you need and want you to be happy with our service.


You can rely on us. We'll pick you up and take you to your wedding destination, so you arrive in plenty of time. No-one want's to be late on their wedding day!


At White 7 Edinburgh, our wedding car is the white BMW 7 series. Elegant and sophisticated, this car not only looks the part but provides the luxury driving experience you expect from a BMW.


High quality silk flowers are provided as part of the service and you can also provide that all important bottle of champagne, and why not, it's your special day! On the exterior, the car will be dressed with the unique White 7 wedding ribbons adding to the overall style.


Organising your wedding car hire with us is simple and straight forward leaving you with more time for planning your perfect day.


The BMW 7 series provides great photo opportunities for family and friends, as well as the bride & groom.


Once the wedding celebrations are over, we can also transport you in style to the airport or cruise liner terminal so you can begin your honeymoon in complete luxury .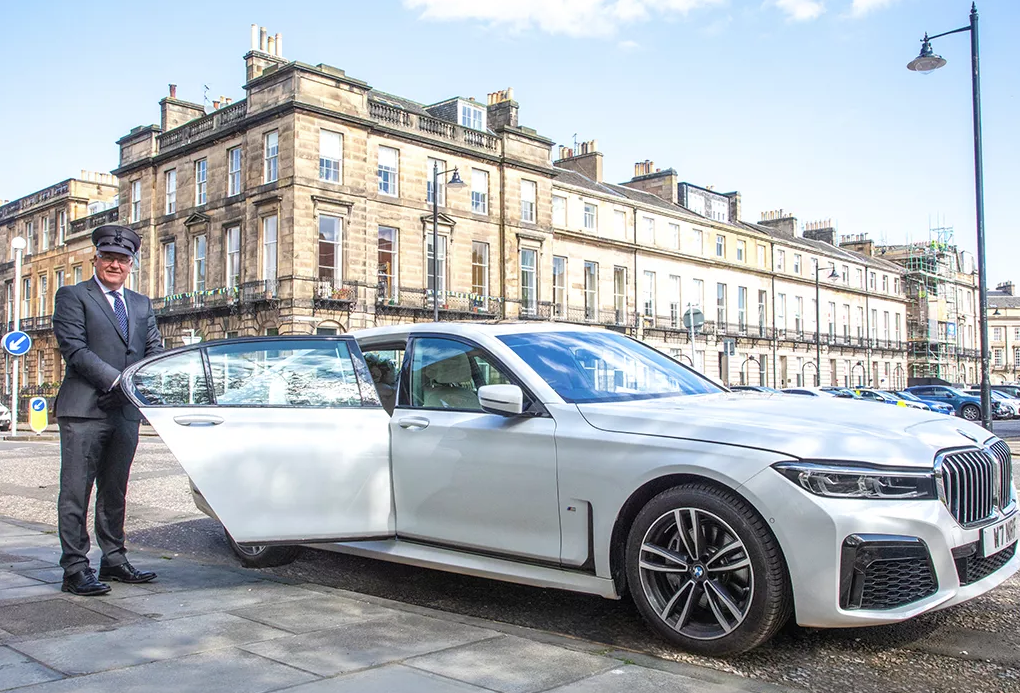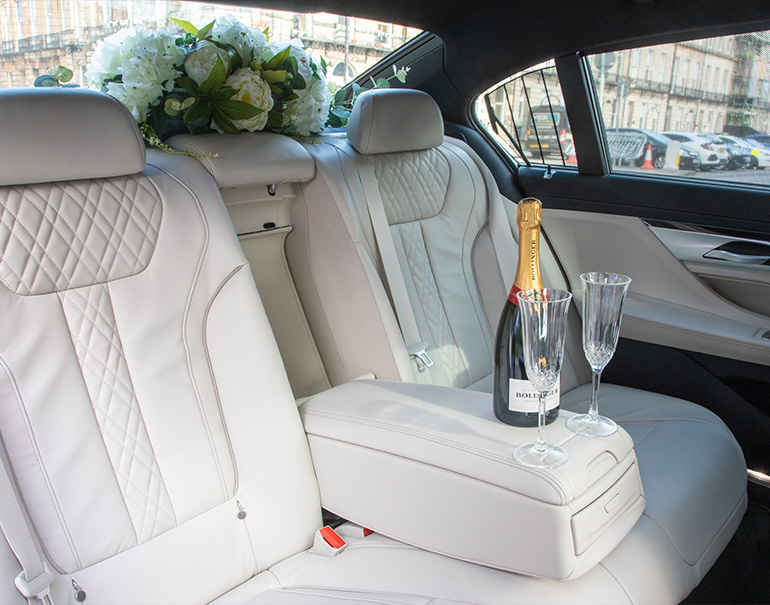 We understand that weddings can take place at all times of the day so whatever your requirements are, give us a call and we'll do our very best to accommodate your wishes.
For a four-hour reservation, you can reserve the 7 series BMW for only £325. (This price excludes VAT and mileage limits may apply).


To book your wedding car hire, call Neil Forbes on 07803 753554 or email

[email protected]


It's not only weddings White 7 Edinburgh can cater for
Whether it's a birthday surprise trip to your favourite restaurant, a trip to the races or a chilled-out spa weekend, White 7 Edinburgh provides the ultimate chauffeur experience.
And let's not forget business travel and airport transfers. The White 7 Edinburgh chauffeur service has been designed to accommodate luxury business travel, allowing you and/or your guests to travel stress-free and without the prescribed timetables and lack of privacy associated with public transport.